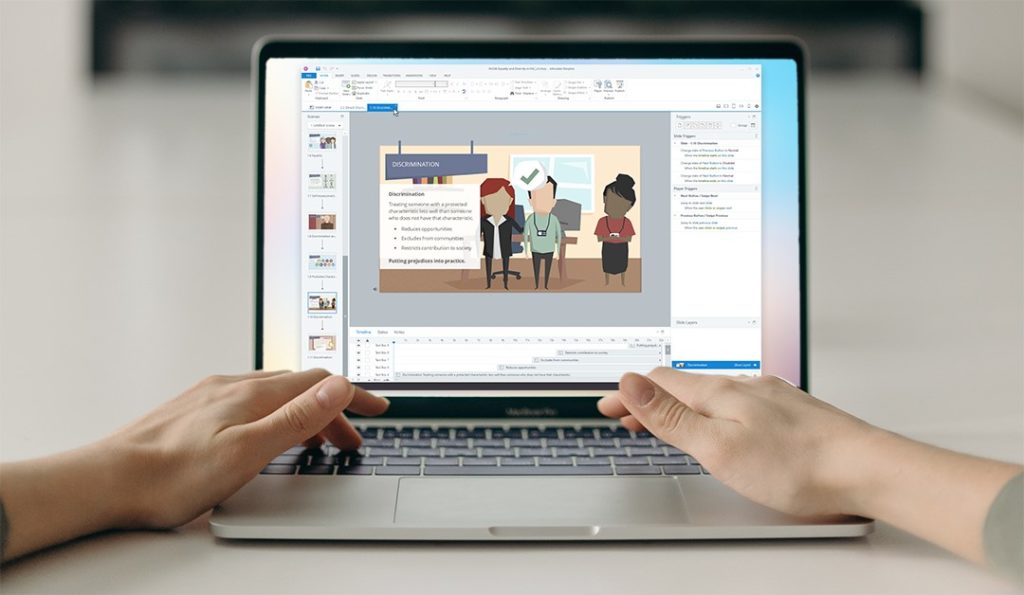 Forming part of the Articulate 360 suite, Storyline 360 is an award-winning authoring app that empowers a designer to create immersive e-learning content. With each slide-based course accessible from a desktop computer, laptop, tablet or smartphone, it's been designed with the modern user in mind.
Here at Learning Nexus, we use Storyline 360 as a handy tool for building some of our bespoke e-learning courses. Creative Designer Anya has been enjoying using the tool since she joined last year and says: "It gives me the creative freedom to captivate an audience, all whilst they learn in fun and interactive ways. I'm regularly challenged by it and I'm always exploring new elements."
And with that, let's dive deeper into why this contemporary authoring tool is so awesome:
Course building made easy
One of the reasons that Storyline's popularity has surged is because it's incredibly intuitive and user-friendly. Simple enough for the junior designer, yet powerful enough for the expert, the tool allows you to craft complex interactions effortlessly, with no coding needed. Whether you want to combine layers, states, triggers or hotspots, you can really ramp up the customisation to create super stimulating courses.
Creative Designer at Learning Nexus, Tom Wassell, comments: "Storyline offers a lot of flexibility for building courses with an array of features, which can only benefit learners and their experience."
Immersive learning
E-learning content built with Storyline 360 invites the learner to enjoy a totally immersive experience. With the ability to incorporate anything from moving animations to videos, sound and gamified elements, the tool dials into a learner's senses to keep them engaged at every moment.
Efficient reviews
Once a course has been designed, Storyline 360 helps you to speed up and simplify the review process, with project managers able to leave comments next to slides that may need amending. This works to centralise the review process and reduce the need for multiple conflicting feedback documents.
Increased engagement
Storyline 360 is known for being super interactive, and this works to effortlessly engage the audience. Gamified features such as scores, points, rewards and levels work to draw in the learner, while features that insist, for example, that a reader listens to audio before clicking onto the next slide, ensure the learner's attention is maintained.
Designed for the digital age
As the working landscape changes, learning and development is becoming more and more important, and Storyline 360 offers the perfect way to keep staff stimulated whether they're at home, in the office or halfway across the world. Whether your team is completely remote, or you're operating a hybrid system, online learners are kept engaged with novel triggers that captivate their attention and combat distraction.
Find out more about our bespoke courses made with Storyline 360 by contacting hello@learningnexus.co.uk, or 01453 756000.