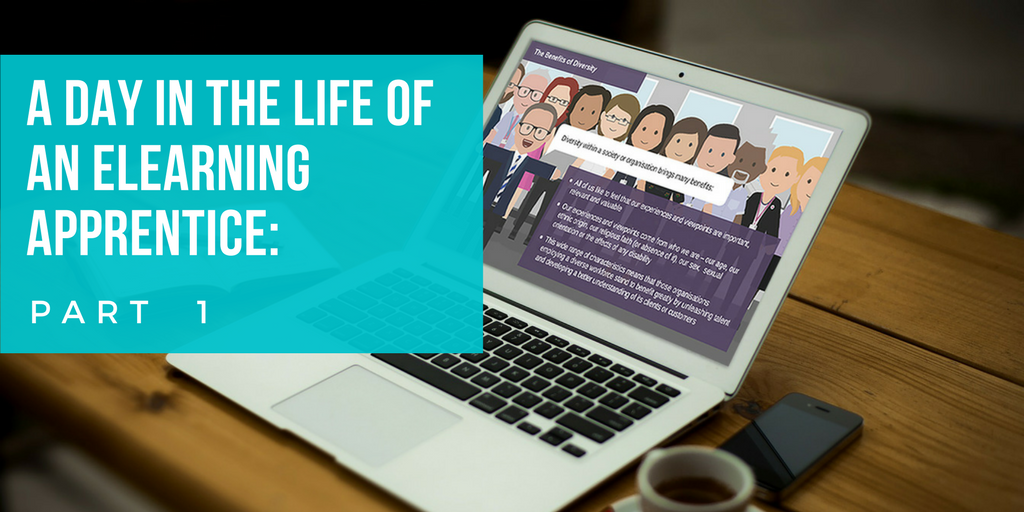 Our two new eLearning apprentices, Kieron and Louis, have been with Learning Nexus for a few weeks now so we asked them to write a short blog introducing themselves. They give us an insight into why they have chosen the apprenticeship route as well as their initial thoughts of the eLearning industry so far. We will publish further blogs from Kieron and Louis in the coming weeks to provide an apprentice's view of the world of eLearning.
Kieron Beasmore
An introduction
My name is Kieron Beasmore and I am an apprentice at Learning Nexus. I've previously followed the path of an IT related career through my education in school and college. I've always been interested in computers and now I can finally put all my work to good use.
I decided to choose an apprenticeship over a full-time job and or further education because it allows me to do both at the same time. I can further improve my skills with one-to-one training and get qualifications for my CV, as well as earning enough money to make a living.
Why an apprenticeship?
This apprenticeship role applied to me because I was previously educated in a college which, in my opinion, didn't have the best teaching. There were quite a few teacher drop-outs and poor teaching methods. In general, I didn't enjoy the course I was doing. Despite not enjoying it, I motivated myself and completed my first year in college achieving my diploma in 'Computer Programming and Apps'. As the second year was commencing, I wanted to start something fresh.  I then decided to look for a different area of IT, then this apprenticeship at Learning Nexus appeared and I saw the potential.
What's the industry like?
When you research the eLearning industry, my first thoughts are that it's very competitive considering how many different companies are out there. You could say each company do the same thing, but they all have different traits and techniques to making each course and/or platform is unique. I never realised how much work goes into a project, but seeing the development from scratch is very rewarding, especially as I will be the one that will publish it to the client. Elearning is the way forward. As technology is ever-evolving, only time will show us how far eLearning can go, from doing an online course with your mouse to being in a virtual reality world.
The story so far
As an admin and support technician, I've learnt so far how use a few of our LMSs, such as Totara, getting to grips with the different functions the administrators use. I've used our Course Builder to create basic eLearning courses and being able to publish them. Furthermore, I've learnt how integrate new and update old courses to customer LMSs using our content utility tool.
Considering Learning Nexus has never taken on apprentices before, the training is outstanding. All the work is hands on, and if help is needed there are online resources to easily access and if that is un successful, general one-to-one learning is very detailed. By far the best I've experienced so far and I look forward to learning more and developing my skills.
A final word…
Thank you again Learning Nexus for this amazing opportunity and I look forward to the future working with you!
Louis
What's the story so far?
This time last year I remember how much stress life was, while I enjoyed studying my GCSE subjects, I was so stressed about the amount of pressure on myself to do well. But it wasn't pressure from myself it was those around me: my family, my teachers and my friends. And, at the end of my exams all I remember thinking was I just can't physically spend another two years studying subjects that I didn't enjoy.
Why an apprenticeship?
I've always had a passion for IT I just didn't know how to express it. So when this apprenticeship came along I really wanted to go for it. Now, I don't know about anyone else but in my school, there was a bit of a stigma about apprenticeships and in short, they weren't held in high regard. So, when I was applying for it there was a strong feeling of uncertainty shrouding it, but I can honestly now say I think it was one of the best choices I'd ever made.
What's the industry like?
The eLearning market really wasn't what I thought it would be. The only time I'd ever encountered eLearning was for the training in my last job, and because of that I guess my major misconception was that it would be a small and niche market, but now, I am quickly finding out it really isn't. The eLearning market is bustling with companies offering everything from generic text to VR.
Thoughts so far
To begin with it feels like you've been dropped in at the deep end but as I'm now finding out, if you apply yourself (a lot) you rapidly learn to stay afloat. I've learnt more in the last two weeks with hands on learning than any teacher would be able to do in front of a whiteboard and the people I've met have helped me not only understand what I'm doing, but support me with it like a teacher and a friend.