With the deadline for GDPR fast looming, we can hear the panic of organisations who are trying to find the right GDPR eLearning course for their workforce. Look no further as Learning Nexus have launched three GDPR eLearning courses and they are available to demo.
What makes our GDPR eLearning courses different?
We appreciate that a lot of eLearning suppliers have released a GDPR eLearning course and this made us only more determined to create something epic and memorable. Since March 2017, we've been curating our GDPR eLearning courses – 'GDPR Awareness' and 'A Quick Guide to GDPR'. We also have a version called "A Guide to GDPR" which contains the same content as our Storyline Articulate-built course but in a more simple format that can be edited by our customers with access to our authoring tool. We feel it is important to have different versions to ensure there's a suitable learning option for everyone.
'GDPR Awareness' is our in-depth overview of the regulation, lasting around 40 minutes and includes a final assessment. This course is suitable for data handlers or processors who need to gain a thorough understanding of GDPR as part of their role.
If your staff need something a little lighter, 'A Quick Guide to GDPR' lasts around 15 minutes long and is in an animated video style. This GDPR eLearning course is perfect for staff that don't specifically work with data, but still need an understanding of the new legislation. Alternatively, this shorter course is perfect for data handlers who need a refresher a few months down the line.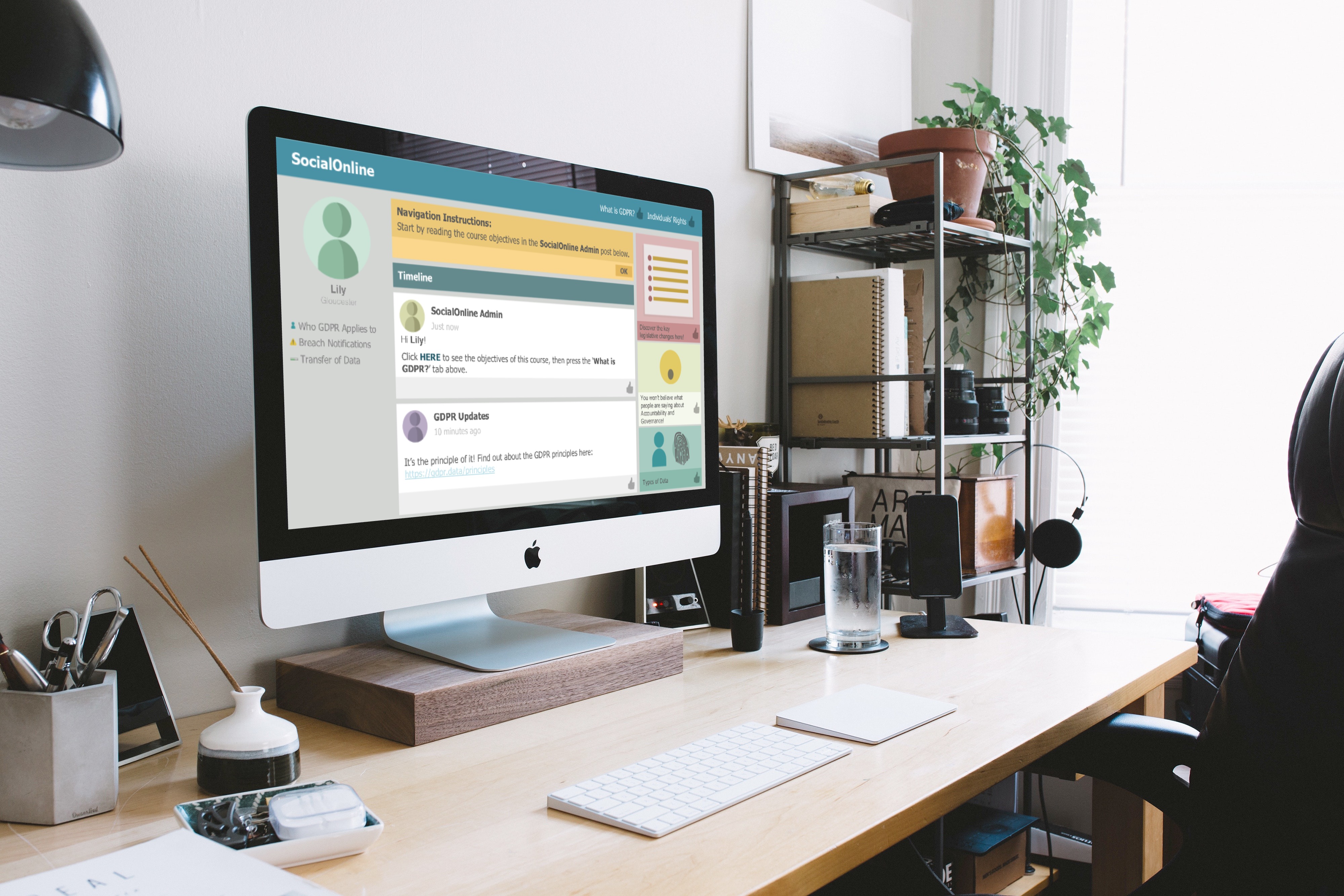 What is "SocialOnline"?
The modern world is filled with data up to our eyeballs. We encounter it everyday when shopping on the internet, browsing our social media timelines ot sat at our work computers. We have brought this to life by basing "GDPR Awareness" on a fictional social media platform, "SocialOnline".
The user is guided to enter dummy data at different stages and this helps the user to learn about different types of data, how it can be utilised and the new legislation surrounding it. This creates an interactive and fun experience that helps to engage learners.
Why do I need a GDPR eLearning course?
You don't. But you certainly do need to train your staff on GDPR. Whilst not a direct replacement of the Data Protection Act, GDPR should be treated with the same level of attention by all types and sizes of organisations.
Learning Nexus would never say that all training should be eLearning. We believe that a blended approach is best and the same applies for GDPR training. An effective approach to training staff could involve giving access to a GDPR eLearning course and following up with a face-to-face workshop to discuss how the legislation directly impacts processes specific to your business.
How can I demo the courses?
Either email us direct us hello@learningnexus.co.uk or fill in our quick form here.
What do the courses cover?
'GDPR Awareness':
What the GDPR is
Why we need it
Categories of data
Key changes in legislation
Standards for consent and safeguarding of children's data
Accountability requirements for data controllers and processors
'A Quick Guide to GDPR':
What the GDPR is
Categories of data
An overview of the six GDPR principles
Rights of individuals
Standards for consent
Accountability requirements for organisations
'A Guide to GDPR'
Same learning content as 'GDPR Awarness'
Lasts 40 minutes
Built in our HTML5 authoring tool to ensure those with access to the editing tool can amend the course to suit their exact needs. This could include adding organisation policies or relevant case studies.
Simple, linear format – useful for organisations under a time-restraint to get employees compliant with GDPR.
Any other questions? Give us a call on 01453 756000, email hello@learningnexus.co.uk or simply fill in our contact form to request a free demo of our GDPR eLearning courses.