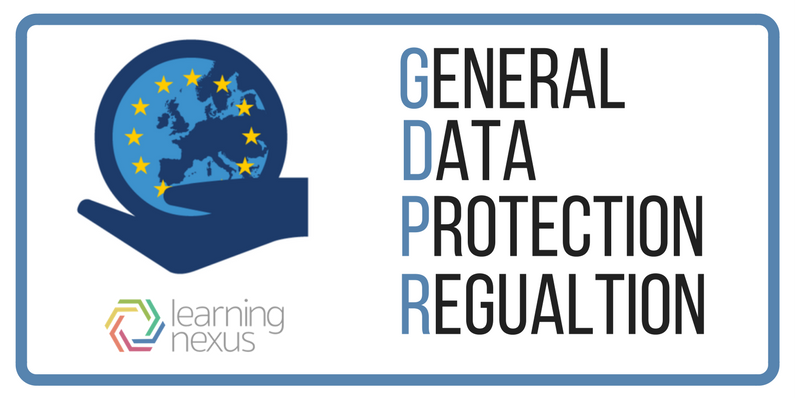 The blog post will update you on Learning Nexus' developments of our GDPR eLearning (General Data Protection Regulation) course. This is due to changes to the current Data Protection Act. It explains how we will be providing GDPR eLearning when the new legislation comes into act in 2018. 
What is the General Data Protection Regulation (GDPR)?
The GDPR is a new regulation set out by the European Parliament, the Council of European Union and the European Commission. It aims to strengthen data protection for all individuals within the EU. Despite the UK's plans to exit the EU, we will continue to adopt this new legislation.
When does GDPR come into act?
The regulation will come into effect from 25th May 2018. Therefore employees will have to be educated on the legislation before this date, possibly with GDPR eLearning.
Are Learning Nexus creating GDPR eLearning?
We have set up a working group with clients that have expressed a strong interest in a GDPR eLearning course. Our new course will provide an overview of GDPR, and will replace our current course "An Overview of the Data Protection Act 1998". Learning Nexus are currently planning out and designing the course. It will then be written up and then reviewed and approved by the GDPR working group.
Where are we getting our information from?
There are several verified sources of information for GDPR that Learning Nexus are referring to. This includes the Information Commissioner's Office as well as resources from our customers.
When will the GDPR eLearning course be available?
We will be developing the the course over the summer and hope to release the course at the start of March 2018. This allows our customers over 2 months to ensure their employees can complete the course before the go-live date.
What's changing in the course?
GDPR is not just an amendment, but brand new legislation which will have lots of new elements. A considerable change is that it will no longer be a 'tick box exercise' and it will completely transform the way data is governed. Learning Nexus are committed to delivering an interesting and interactive GPDR eLearning course that will keep learners engaged.
If you are interested about the developments of the course and would like a demo when it goes live, please contact us at hello@learningnexus.co.uk or contact us here.
Alternatively, to find out more details about GDPR, visit the Information Commissioner's Office website.