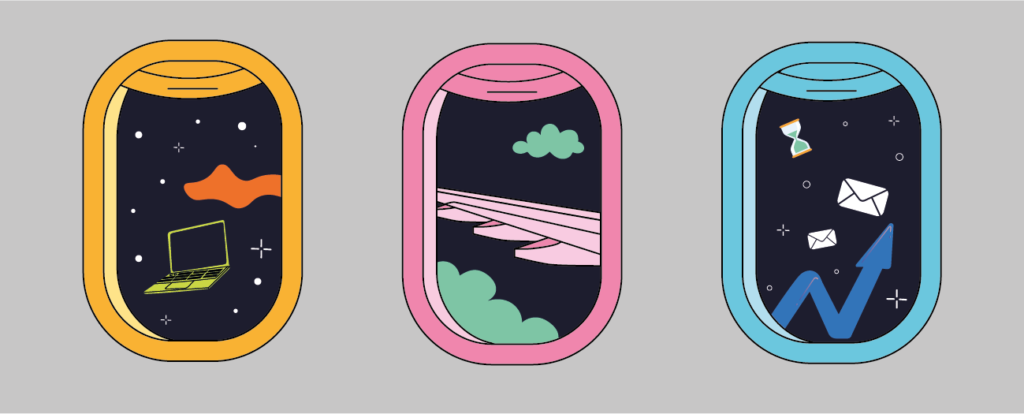 It's our #ImprovingWorkPerformance campaign week …and as a digital learning company, it makes sense that when we talk about elevating performance, we let you into what we've been doing ourselves to enhance the way we work!
So, we gathered the people behind Learning Nexus, and got some pretty interesting responses!
Without further ado…
Anya – Creative Designer
Our lovely Creative Designer Anya raves about the value of YouTube, and remembering to breathe.
"Over my time at Learning Nexus, the support of staff and senior designers has helped me a lot!! Especially when we have our 'weekly studio training' where we have learnt new skills such as motion graphics and video editing.
Resources such as YouTube are amazing. They have so many creative tutorials on there. I've watched tutorials on how to make different graphic elements on Adobe softwares for years, and I watch them now when I want to learn something new.
Another thing that has helped me improve performance is work-life balance. Occasionally, I will work a little later but once I'm logged off, I'm off. I try not to think about work until the next day. If I find myself getting stressed over it, I just breathe, give myself a minute and remind myself it's just work."
Dan – Head of Design
When it comes to improvement, our Head of Design, Dan, is all about supporting the team.
"At Learning Nexus, I've been focusing on training the creative team to give them the support and skills development they need to do their jobs most effectively. On a day-to-day basis, we have a fast project turnaround and I've learnt valuable skills in planning, prioritisation, and delegation."
Duncan – Animator
Just like Anya, our animator, Duncan, speaks about the value of YouTube for picking up new skills.
"Watching YouTube tutorials and looking through Behance helps me to keep up to date with the current creative styles and fine-tune my work. Meanwhile, keeping a to-do list for daily tasks helps me stay organised and helps me break big projects into manageable tasks. I also like to get in early, as this helps me get started on the day."
Sami – Learning Designer
Meanwhile our Learning Designer Sami, describes the importance of prioritisation:
"Working to tight deadlines and client needs can be difficult, but something that makes it easier has been prioritising. I take the time to figure out a game plan each morning and work through the tasks that need addressing; not only does it help take a load off my mind, but it also helps everyone else in achieving project deadlines!
Sometimes it can get confusing with so many projects happening at once, so being able to easily talk to my colleagues has also been a huge help. Teamwork only works when we're all on the same page!"
Steph – Creative Designer
Creative Designer, Steph, describes the three pillars that she believes in for improving your work performance.
"Working with your strengths and weaknesses: Although I'm able to create the backgrounds and various other assets for the books, I'm aware that this may take some time due to my experience in working with Illustrator. To help, I have been working with other members of the team to help with making the backgrounds whilst I then input the characters and adjust the settings."
"Breaking it down: At first glance, creating my illustrated books from start to finish can be daunting and overwhelming. To help overcome this, I created a spreadsheet, and broke down the details page by page. This helped with my workflow and seeing what I can use from previous books and didn't make it look so scary!"
"Be honest about deadlines: There have been occasions where deadlines for projects can be fast approaching, and it becomes increasingly difficult to hit those targets with my workload. Careful planning and consideration before the project gets started can help with this, and setting realistic goals can help hit those tighter deadlines."
Duncan – Head of Implementation
Last but not least, it's our Head of Implementation, Duncan, who explains the value of feedback:
"The biggest improvement in performance for me for specific tasks always comes after getting some meaningful feedback – being able to collaborate with an 'expert' so they can review how I work and offer insight is key here.
For general productivity, having a clear agenda for my day and allowing time in between meetings to action quick tasks (rather than adding to an ever-growing to-do-list) are my two best insights!"
Contact us at hello@learningnexus.co.uk or on 01453 756000 to find out about our brand new Improving Performance range.