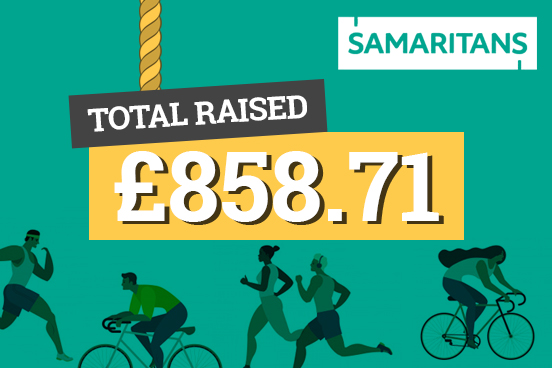 During the month of July the Samaritans set a UK-wide challenge to run, jog, walk or cycle 26.2 miles to help raise life-changing funds.
Eight members of the Learning Nexus team dusted off their running shoes, put some WD-40 on their bikes and aimed to complete this challenge in aid of the Samaritans. Throughout the month, our team took to cycling and running during their lunch breaks, taking walks in their local area after work or hitting the treadmill at their local gym.
After an exhausting month our team had travelled a total distance of 726 miles, a massive 516.4 miles more than was expected. This extraordinary distance meant that we were the 4th highest ranked team in terms of distance travelled.
One team member, Andrew George, accounted for almost a third of our total distance, racking up a whopping 271 miles, leaving him 5th in the individual mileage tables… A great effort from Andy, we have to say!
After a huge number of donations, our team raised an incredible £859, just missing out on a spot in the top 10 fundraising teams.
To hear more about the Samarathon, click here to visit the website
The Samaritans
The Samaritans are a suicide prevention charity, dedicated to reducing feelings of isolation and disconnection – two of the major contributing factors of suicide.
Every six seconds, the Samaritans respond to a call for help, which adds up to more than 5 million calls for help each year. The service they provide is integral to reducing the annual number of suicides in the UK, which in 2017 averaged 16 per day.
Suicide is one of the leading causes of death in the UK, with many victims' families not knowing they were suffering. It is the leading cause of death among people aged 20-34, and for men under the age of 50.
To find out more about The Samaritans, click here to visit their website
Our Contribution
The money we have raised is just a drop in the ocean compared to what is needed to support everyone. However, if the funds raised can prevent one person from taking that awful step towards suicide, then we have done our bit.
The £859 we have raised will fund any of the following:
151 calls from someone asking for help
Training and support of 18 existing Samaritan volunteers
Training of 4 new Samaritan volunteers to offer life-saving advice
We are extremely proud of our team – the money raised and distance travelled is evidence of the lengths to which our team will go to support a charity – or any of our clients.