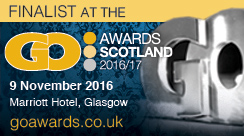 Learning Nexus has been shortlisted for the Best Service Award category in the Government Opportunities (GO Awards) Excellence in Public Procurement Awards Scotland 2016/2017.
Learning Nexus is delighted to have been nominated as a finalist in the Best Service Award category in the Government Opportunities (GO) Excellence in Public Procurement Awards Scotland 2016/17 for its work with the Student Loans Company (SLC).
In 2016, the SLC launched the Digital Learning Academy with Learning Nexus – a Totara-based learning management system that houses interactive eLearning designed to grow with the organisation.
The SLC successfully launched their Digital Learning Academy in May using internet cafes to provide employees with a hands-on and experience of the new platform and the organisation are now focused on launching online communities and exploring incorporating their own video content into the learning available.
Learning Nexus were issued the tender for the SLC tender through the Civil Service Wider Public Sector Framework and provided an innovative eLearning solution for the 3000 staff across sites in Glasgow, Darlington and Llandudno Junction.
Due to the success of the partnership, Learning Nexus decided to enter the GO Awards Scotland, which act as the benchmark in the £11 billion plus sector in Scotland.
Grahame Steed, Government Opportunities Managing Editor and Lead Judge said: "This has been an unbelievable year for the GO Awards. The standard of entries this year was extremely high and we're absolutely delighted to see many new organisations entering the Awards. This finalists' list profiles those organisations which continue to excel in their field and make genuine differences to everyday life with their procurement initiatives."
A representative for Learning Nexus said: "We are very pleased with the recognition as the level of competition for these Awards grows every year. What's more, our procurement initiatives have been recognised by a panel of procurement specialists including the Director of Procurement and Commercial for the Scottish Government."
The Learning Nexus team look forward to attending the finalist events held on Wednesday 9th November in Glasgow later in the year.