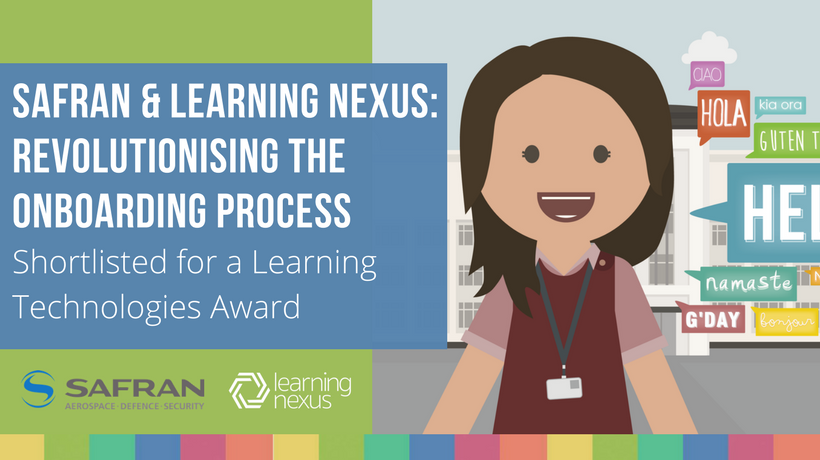 Safran Landing Systems, in partnership with learning solution provider Learning Nexus, have been shortlisted by Learning Technologies for their new revolutionary onboarding training.
The shortlist for Learning Technologies 2017 was announced on Tuesday 12th September. Around 400 applicants eagerly awaited the fate of their learning success entries. There were over 40 entries in to the "Excellence in Design of Learning Content – Commercial Sector". However, Learning Nexus and Safran Landing Systems are delighted to have been shortlisted for their UK entry.
Learning Nexus and Safran decided to enter the Awards after the huge success of a new onboarding solution implementing earlier in the year. The solution is seen to be revolutionary by Safran. The blended solution was new to them and used a variety of learning elements, including gamification.
The Learning Technologies Awards attracts entries from across the world. It recognises learning and development teams, designers and suppliers for excellence in the design and execution of learning solutions. Learning Nexus and Safran will be presenting to a set of judges on 3rd October 2017. They will demonstrate each element of the onboarding programme and the ROI it offered to Safran.
Commenting on making the shortlist, Kim Eade, Learning and Development Officer for Safran said: "This project has made such a difference internal it is great to have it recognised after all the hard work put in by all".
Sarah Keates, Learning Nexus' Production Manager and Project Manager of the Safran solution, adds: "This is an exciting time for Learning Nexus, we're really proud of the onboarding solution we created for Safran and can't wait to share its success with others".
What's next for Learning Nexus and Safran?
The winner for the category will be announced on 29th November 2017. For further information about the onboarding solutions we provide, please contact us.