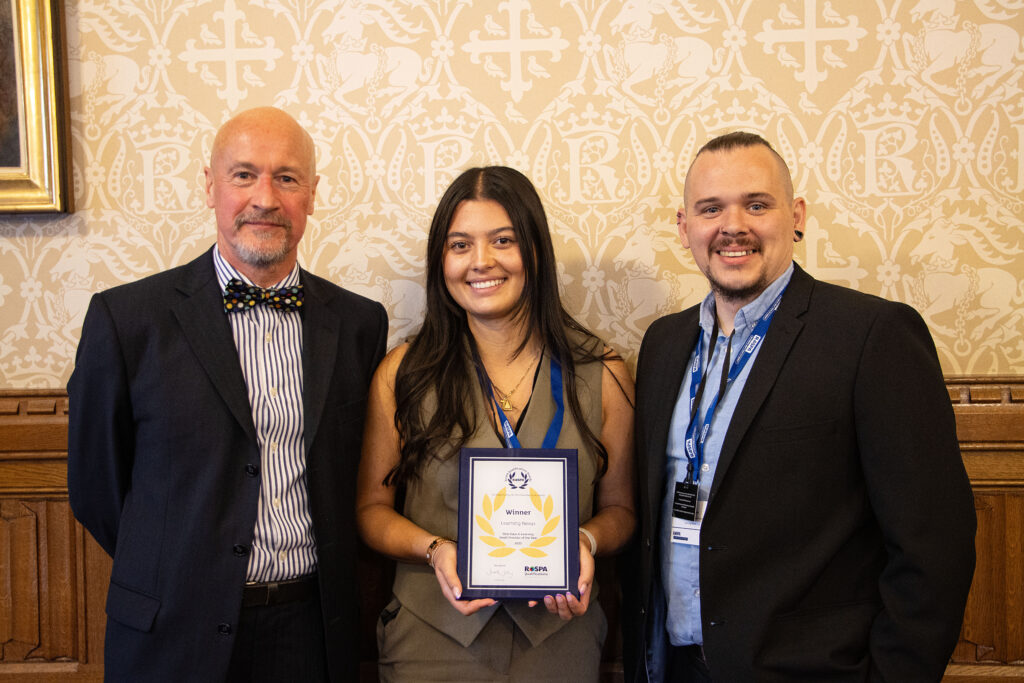 Learning Nexus has fought off stiff competition to scoop a debuting award, demonstrating its commitment to health and safety excellence at the first-ever RoSPA Qualification Course Assurance Awards.
Learning Nexus achieved a winning placing in the First Class E-Learning Small Provider of the year category demonstrating its commitment to putting excellence right at the heart of learning and skills development by providing high-quality training courses.
The free-to-enter awards allow existing Course Assurance customers the chance to showcase their training quality, placing them as a benchmark against other course-assured training providers, resulting in the potential to win tenders and new clients.
The judging panel included four health and safety experts: RoSPA's CEO, Errol Taylor; Independent Public Health Consultant, Dr Michael Craig Watson; RoSPA Qualifications board member Peter Brown and RoSPA's Achievements Director Julia Small.
Kim Eade, Head of Production, People & Culture at Learning Nexus, said: "It's a great honour to be recognised by RoSPA for our work. We are committed to producing high quality training and hugely value our longstanding relationship with them."
Julia Small, RoSPA's Achievements Director, said: "As health and safety leaders, we understand how fundamental it is for businesses to provide first-rate training courses either in-house or when using third party training providers. Not only does it benefit everyone when businesses competently train staff, but we believe winning a Course Assurance Award elevates a company's reputation as industry trailblazers.
"We are therefore thrilled that Learning Nexus has won at our first-ever RoSPA Qualification Course Assurance Awards and would like to congratulate them on showing commitment to keeping their learners safer from accidental harm and injury."
Finalists from each category were invited to an exclusive event at the House of Lords, which included a guided tour allowing guests to look inside one of the world's most historic and recognisable buildings, as well as a special three-course luncheon. During the afternoon the President of RoSPA, Baroness Jolly presented the winners of each category with their awards.
-Ends-
For further press information, images or an interview with one of our experts, please contact: Jessica Barker: jbarker@rospa.com, 07719 059 414.
Notes to Editor(s)
For more information on the RoSPA Qualification Awards please see here.
About the Royal Society for the Prevention of Accidents (RoSPA)
RoSPA is a not-for-profit organisation that has worked for more than 100 years to help people recognise and reduce their risk of accidents, at home, on the road, at work and at leisure. Our goal is to enable everyone to live their lives to the full, safely. For further information on RoSPA and its history, please see here.
RoSPA Qualifications is an awarding Organisation (AO) regulated by Ofqual and operates independently from RoSPA and other divisions of RoSPA.