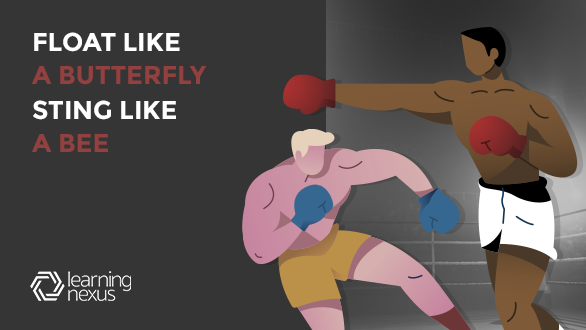 On this day (29 October) in 1960, Cassius Clay, more commonly known as Muhammad Ali, began his professional boxing career – a career that spanned across a 21-year period.
The majority of us remember Ali as an untouchable icon, but not many of us know of the difficulties he faced, and overcame, during his career – many of which L&D professionals can learn from.
So, who was Muhammad Ali?
The first thing to know about Ali is that he might never have become a boxer if it weren't for the theft of his beloved bicycle. Having reported the theft to police, Ali vowed to "pummel" the culprit. Fortunately, the investigating officer, Joe Martin, was a boxing trainer and suggested that Ali learn how to fight before doing anything stupid.
It Begins
Moving forward six years, Ali had amassed 100 boxing victories on the amateur circuit in America and travelled to the 1960 Olympics in Rome, easily winning all four of his fights and being awarded a gold medal.
After his Olympic success, Ali turned professional and went on to win his first 19 fights, which included 15 knockouts. The boxing world began to take notice and rewarded Ali with his first title shot in February 1964 against Sonny Liston.
It was this fight where the famous phrase was uttered: "float like a butterfly, sting like a bee". After huge swings in momentum, the fight was stopped after thesixth round due to an injury to Liston, with Ali being crowned champion and many considering it to be the "fight of the decade".
A Champion Is Thrown into Exile
Over the following three years, Ali solidified his hold on the heavyweight championship, defending his title nine times – including a first-round knockout in his rematch against Sonny Liston.
However, hisninth defence would prove to be his last fight for quite some time. Ali refused to be drafted into the Vietnam war and therefore had his boxing licence revoked, along with his heavyweight title belt.
Ali's refusal to be drafted sparked huge controversy, with his popularity plummeting as many saw him as a "draft dodger". In 1970, as public attitudes towards the war turned, support for Ali grew and resulted in his boxing licence being reinstated.
The Champ Returns
After 43 months in exile, Ali had two fights in 1970, both of which he won, before being given the chance to win back his heavyweight title against the undefeated Joe Frazier. It wasn't the return to prize-fighting that Ali had envisioned, however, with Ali losing by unanimous decision.
Ali then went on to win another 10 fights on the bounce, before being defeated by Ken Norton in a split decision – a result he avenged six months later in their rematch.
This victory gave Ali the opportunity to finally regain his heavyweight title against George Foreman – a fight dubbed the "Rumble in the Jungle". Similar to his first title fight, Ali yet again made history with his "rope-a-dope" strategy: leaning on the ropes and absorbing punches whilst waiting for his opponent to tire. The unconventional strategy worked and Ali regained the title he had been stripped of seven years earlier.
The End Is Near
Having won back his title, Ali successfully defended it a further 10 times. These title defences included the memorable "Thrilla in Manilla" – the third and final boxing match between Ali and Joe Frazier, attracting a global television audience of 1 billion viewers.
As Ali hit the age of 30, it became clear he had lost his knockout power, with many of his fights going to a decision. It was in this period that his final high-profile loss came about, with Ali losing his heavyweight title to Leon Spinks in February 1978.
The fight was lost on a split decision; a decision many disagreed with. Ali therefore returned to the ring exactly seven months to the day to fight Leon Spinks once again, this time winning by unanimous decision. Ali had won back his heavyweight title and decided the time was right to announce his retirement from boxing.
Never Look Back
Two years after his retirement, Ali announced he would make a comeback; and did so in October 1980. However, it was not the comeback many had wanted, with Ali losing to Larry Holmes by technical knockout.
Nevertheless, Ali put his gloves back on in December 1981 to fight Trevor Berbick – a fight he lost by unanimous decision.
It was a rather disappointing and tarnishing return to the ring for Ali. Fortunately, however, he is fondly remembered by most for his earlier boxing career, as well as his humanitarian and charitable endeavours.
So, what can L&D learn from such a distinguished and eventful career?
360 Feedback
The first thing we can learn is from a 12-year-old Muhammad Ali. Ali voiced to others what he wanted to do with the thieves who took his bicycle. But before taking action, he listened to what they thought he should do.
This is something we could implement within L&D – 360 feedback. Enable colleagues to review each other's skills and competencies, whilst advising on what would help them to become an overall better employee.
Once feedback is complete, a decision can be made on what needs to be done and, therefore, they can update their learning plans.
Content that "floats like a butterfly and stings like a bee"
Unknowingly, Ali perfectly described how eLearning content should be.
Firstly, content should "float like a butterfly". It should look beautiful on screen, with plenty of interactions to keep learners engaged. This is exactly what Ali did with his boxing – he kept viewers entertained.
Content should also "sting like a bee". This simply means that eLearning content should be effective and help people achieve their objectives – it needs to educate on a specific topic.
It's no good having beautiful but unsubstantiated content, nor does it benefit learners to have educational but 'ugly' content. You need a mixture of bees and butterflies to successfully educate your workforce.
Short- and Long-Term Goals
Throughout his career, Ali set himself short-term and long-term goals. The short-term goal was always to win the next fight, the long-term goal was usually to regain his heavyweight title. Although Ali received a number of short-term setbacks, it was his desire to reach his long-term goal that helped him achieve his ambitions.
The same can be said for L&D. If you are solely focussed on the short term, any setbacks or unsuccessful initiatives can put a real downer on things.
However, if you can identify why setbacks happened and feed them into your long-term goals, you are more likely to achieve them.
An example of this is compliance vs performance management. Many L&D professionals stay away from performance management due to a lack of engagement with their compliance eLearning, thinking it wont work because they aren't engaged. If you take a step back and look at why people aren't engaged, you can usually resolve this when you want to roll out performance management.