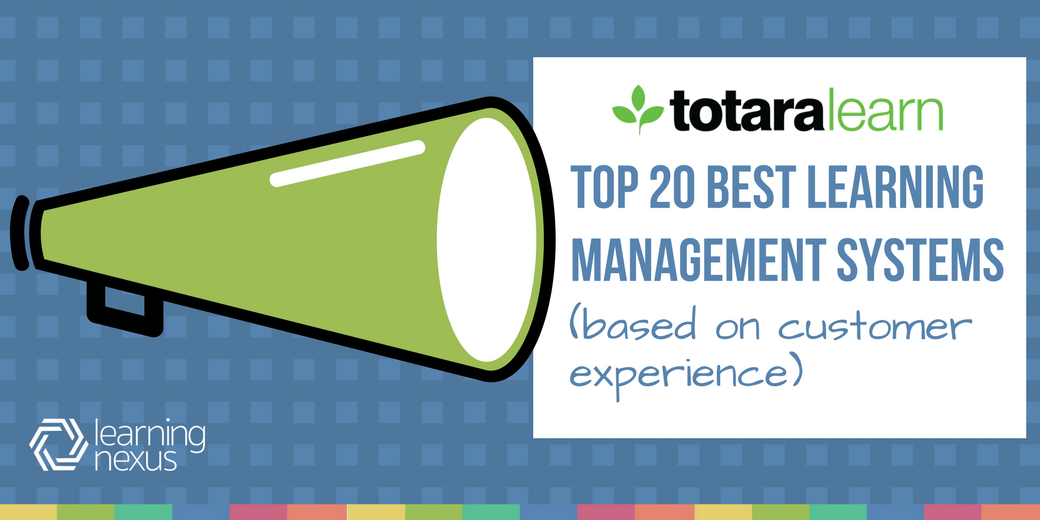 Totara Learn has made the top 20 list for "The Best  LMS (Learning Management Systems) based on Customer Experience" curated by eLearning Industry. The list (see below) has been created "using a holistic approach and is based on input from actual LMS users".
How was the best LMS scored?
Over the last few months, LMS users have been asked to review the learning management systems they use. The overall score for each shortlisted LMS is based on customer satisfaction, customer effort and customer expectation.
Custom satisfaction = the degree of customer happiness with a particular product, service or interaction
Customer effort = the amount of effort required to get customer support from the LMS vendor
Customer expectation = the gap measured between customer expectation and service received by the LMS vendor
Totara Learn came 14th in the list of Top 20 Best learning management systems. Totara achieved an overall high score of 82%. Customer satisfaction was 90%, customer effort was 88% and customer expectation was 86%.
Impressively, Totara Learn beat widely popular learning management systems including Moodle, Litmos, Adobe Captivate Prime and Docebo.
Why did Totara Learn make the list?
Unlike most other learning management systems, Totara is built on a network of partners across the world. So rather than dealing with Totara direct, you pick a Totara Partner that best suits your organisational needs. For example, some Partners just provide the system, whereas others can offer the system and eLearning content.
Totara has continued to grow from strength to strength since its creation in 2010. 'Totara Learn' as a brand has been born in more recent years and makes up a mixture of learning and performance management. This means that, for a very cost effective annual license, you get a lot for your money.
Totara Learn is often credited for the various functionality in reporting, managing blended learning and appraisals. Whilst many other systems can fall down on functionality, the Totara Community also strengthens Totara's proposition. That's why we believe it deserves to be named as the best LMS.
What do Totara users say?
"User-friendly, easy to customize with proper administration and evaluation functionalities"
"Flexible and powerful"
"Learner-centric platform"
"Totara is easy to use, highly customisable and scalable". 
What is the Totara Community?
The Totara Community is a place that brings Totara customers and Totara prospects, into one place. For those looking for a new LMS, you can easily sign up to access their demo site as a administrator, manager, trainer or learner. You can then explore the functionality of the system in your own time before approaching a Totara Partner.
For existing Totara Learn customers, the Totara Community acts as a place to ask questions and gain support for tasks you're unsure on how to complete. The Totara Academy section of the Community allows you to view videos and training content to learn how to complete tasks.
The Totara Community acts as a great resource all round and is one of the reasons it appeals so much to those on the look out for an LMS.
Want to find out more about Totara Learn?
As a Totara Platinum Partner, Learning Nexus will happily provide you with a free Totara Learn LMS demo. Just fill in our contact form here or email us at hello@learningnexus.co.uk. You can also read more about the LMS on our website.