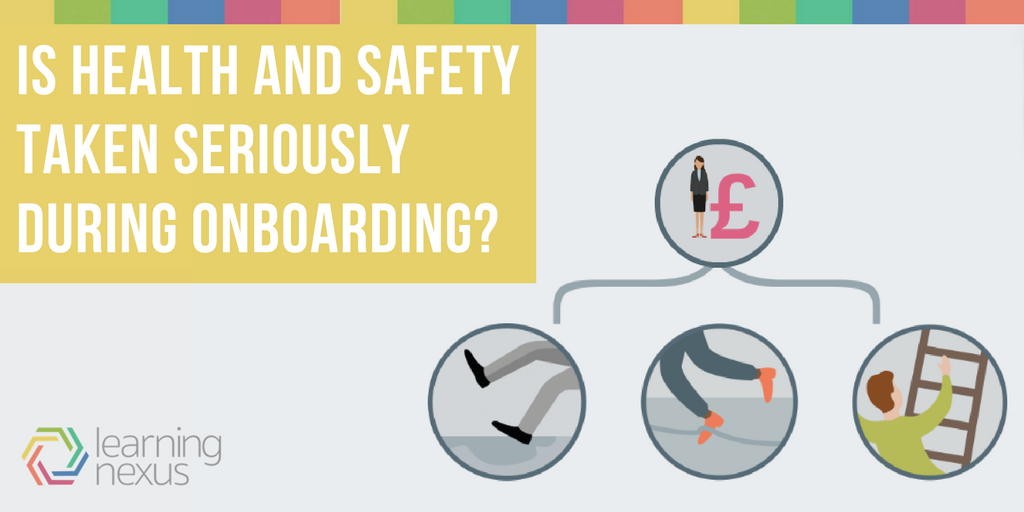 Onboarding a new employee is often an expensive process and organisations will approach it in different ways. Some provide well-developed introductions to company values and the employee's new job role. Health and safety training, however, often gets missed out or becomes a tick-box exercise pushed to the bottom of the priority list.
Adding health and safety training to the checklist may help to ensure compliance, but whether employees complete the training is another matter. When staff finally do come to complete the training, it can leave them disengaged and unexcited.
Some organisations approach health and safety in a face-to-face training environment whilst others use online training. Despite these different methods, we ask: why is it important to include health and safety during onboarding?
To find out how Learning Nexus can support your onboarding process with online learning, contact us.
Onboarding Compliance
One of the most obvious parts of health and safety training is that it comes with the responsibility of being an employer. The employer is required to ensure that the workforce knows how to work safely and how to avoid risks to their health. Whilst this can cover many areas, the Health and Safety at Work Act 1974 requires employers to ensure, so far as is reasonably practicable, the health and safety at work of employees.
Training and development
Providing sufficient training, whether online or classroom-based, is part of the development of any employee. This is particularly important for new employees during the onboarding process. Health and safety training can help them to understand important elements, such as personal well-being or how to carry out their job safely. This can help lead to better job satisfaction and overall work performance.
First impressions
An employee wants to feel welcome when starting a new job. This could lead to the expectation of receiving opportunities to learn more about that organisation. If employers invest in training, it can create a strong impression of prioritising employee development. Providing health and safety training could be the start of a succession of other training opportunities which will help to keep new employees satisfied.
Blended learning
Many organisations use a variety of methods during the onboarding process. This could include classroom-based lessons with teachers, paper-based activities or eLearning. Ensuring a mix of activities can help to create a blended learning environment. This approach is praised by many, as it offers a variety of learning methods to compliment contrasting employee learning styles.
Fosters engagement
Joining a new organisation can be a daunting task for both the employee and employer. Providing activities such as health and safety training can be a good way to settle and engage an employee.
To help achieve these benefits, Learning Nexus designed a health and safety onboarding induction eLearning course. We understand that it's important to create a good impression as well as ensuring compliance during onboarding . The eLearning course covers:
Why health and safety is everyone's responsibility
Key health and safety responsibilities of employers and employees
What is meant by health and safety hazards, risk and risk assessment
The need to report injuries and near misses
Describe how to identify and control the hazards and risks associated with slips, trips and falls; violence and aggression at work; manual handling and fire and evacuation
The course is also customisable with our authoring tool. This means employers can tailor it to suit their exact needs as well as providing a more engaging experience for new and existing employees. With employees' rising expectations of the onboarding process, this health and safety induction overview is an effective and engaging solution.
To find out more about the health and safety induction course and how you can integrate it into your onboarding process, contact Learning Nexus or email us directly at hello@learningnexus.co.uk