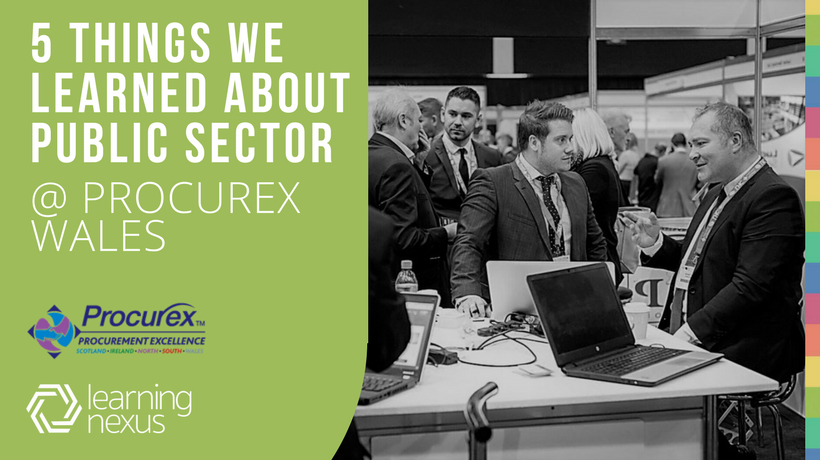 Learning Nexus exhibited at Procurex Wales – a public sector procurement event in Wales – on Thursday 9 November 2017. Procurex Wales is committed to enhancing innovation, collaboration and education. This year, there was a particular slant on the 'Taking Wales Forward 2016-2021' strategy. With tens of organisations in sectors ranging from agriculture to design, there were endless topics being discussed.
Learning Nexus continues to add public sector organisations to its customer base, so we were keen to learn more about the sector. We wanted to understand the needs and requirements of public sector procurement managers. We also wanted to discover what's driving procurement managers centrally from the Welsh Government. After a busy day talking to customers and suppliers and interacting with the seminars, we've summed up the top 5 things we learned.
1. The Welsh Government is leading the way with Modern Slavery
After listening to a presentation from the Welsh Government's Anti-Slavery team, it's clear that Wales are making huge steps in tackling Modern Slavery. They are the first UK Government to fully support organisations on anti-slavery best practice. What's more, there was a huge appetite from the visitors for guidance on this topic.
The Welsh Government has issued a 'Code of Practice'. It sets out 12 steps which Welsh organisations, big or small, are asked to sign. Not to confirm that they've already implemented these practices, but a commitment to work towards achieving them. The Code of Practice includes elements such as, ensuring staff are trained on Modern Slavery and carrying out checks on supply chains.
A seminar session by Penningtons Law further highlighted the need for organisations to take Modern Slavery seriously. The representative from the law firm warned we are too quick to "talk the talk", but often fail to "walk the walk" to make a real difference.
This sheer volume of talk about Modern Slavery from both the Welsh Government and public sector employees was overwhelming. We were able to highlight our Modern Slavery eLearning course as an efficient and effective way to train staff on the topic. As well as this, we were able to learn exactly how the issue affects organisations in different ways, highlighting the complexity of the issue.
2.  It's all about the blend
As part of our stand, we ran an activity to understand what type of learners are in the Welsh Public Sector. Turns out, there's a huge mix. The clear winners, however, were "visual" and "hands on" learning. This is because most people explained how they like to see somebody explain something to them. Plus, they won't usually learn something until they can get 'hands on' and have a go themselves!
3. GDPR is big news for public sector
Whilst everyone is still getting to grips with 2015's Modern Slavery Act legislation, many are only beginning to understand the potential impact of the General Data Protection Regulation. The new legislation will come into effect in May 2018 but many are unsure on how to tackle it.
There were seminar sessions asking the question "Are you ready for GDPR" and the common answer was no. Perhaps more guidance is required from central government to advise organisations, big or small, on how to ensure their staff are aware of the changes.
4. Partnerships are key
As well as speaking to potential customers at Procurex Wales, we also spoke to a lot of other public sector suppliers. It is becoming clear that, in order to become competitive and offer businesses exactly what they need, they are looking to partner with other suppliers. This is particularly the case in tender and framework processes.
This collaborative working can be positive for both sides. This is because this the suppliers get to utilise each other skills and knowledge, whilst the customer gets an overall better and more compatible service.
5. eLearning is everywhere
We had the pleasure of meeting a lot of public sector suppliers who had somehow incorporated eLearning into their product offering. Why are they doing this? Because their customers are requiring more than just face-to-face interactions or training. For example,  we met fire safety consultancy offer training, advice and support to businesses. They have recently found the need to enhance their consultancy service by also offering fire safety online training.
The advantages of widening your trainning offering to online as well as F2F include being able to appeal to all types of learners as well as being able to physcially report and audit eLearning.
All in all, Procurex was a fantastic opportunity to meet public sector organisations and suppliers. Learning Nexus as a supplier learned a lot, and if yo would like to find out more about the topics discussed in this post, email hello@learningnexus.co.uk.